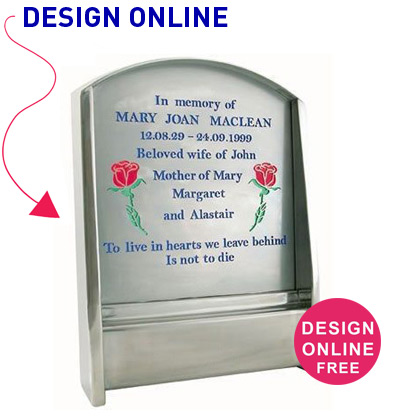 Key Features
Our stainless steel light transmitting headstones have been designed to provide the longest lasting and most beautiful headstones available today. They will not fall apart, crack or disintegrate with land movement or the passage of time. Furthermore, they will keep their good looks and maintain a readable inscription for thousands of years.
Our headstones are made with modern, stylish and intricate designs. The motifs and personalised inscriptions are laser-cut into two layers of steel that hold the coloured glass selected by our customer. When light passes through the glass-backed inscriptions and motifs it gives an effect similar to stained glass without the fragile nature of stained glass. This assembly also significantly enhances the vandal resistance. This style of headstone is available in a range of shapes and sizes.
Designing Your Headstone
As a customer you have the opportunity to personalize the design of your headstone using the exclusive design section of our website.
Within this very simple design system, you start by selecting the preferred headstone shape and size, and drafting your personalized inscription with a choice of colours and fonts.
You may upload your own image, which can be added to your design as an image inlay or image overlay with a choice of enduring materials.
We have also made available an extensive library of thousands of motifs for you to choose from. These images can be added to your design as stainless steel or coloured glass-backed motifs.
At any time during the design process you can click the check price button to determine the price of the design.
You may save and edit your design as often as you want, and email your saved designs to family and friends. Once you are completely happy with your design, you can order online.
Shapes











Size Range
Width from 300 to 1200 mm - Height from 300 to 1200 mm (~12" to 48")
Headstone Bases
Headstones can be supplied with or without a black granite or stainless steel base.
The bases can be supplied with or without flower vase holders.
Cemetery Requirements

Various cemeteries have different requirements and limitations on the size of headstones that they allow to be installed on their property. There is no reason why a Forever Shining laser-etched black granite headstone cannot be installed in any cemetery. Before an order is placed for one of our headstones these issues should be discussed between the customer and the cemetery to ensure that the needs of all parties are satisfied.

Trademarks and Copyrights

If there is a trademark or copyright associated with an image or logo that is required on a headstone, please ensure that written permission for us to reproduce the image or logo is provided by the owner of the trademark or copyright and that permission is supplied with the order. The order will not be processed without that permission.
Remembrance
A beautiful stainless steel light reflective headstone is a permanent and lasting memorial to your loved one and a place for you and others to visit in the cemetery to reflect on and remember the life of the deceased.