For those who once did Rock, We salute you. – A tribute to AC/DC's Malcolm Young
Creating A tribute to Malcolm Young.
Written by Anthony "Ajay" Bean – Graphic Artist
Malcolm Young, one of the most influential rock 'n roll guitarists of all time, recently passed away over the weekend from complications to do with onset dementia, aged 67. Now, the loss of a celebrity, especially one who was part of an iconic part of our lives is a bit of a wake-up call to ourselves. Now, whilst Malcolm Young lived a fast, hard life of rocking out, shredding and touring with quite possibly the single greatest Australian Band of all time, What made Malcolm such a character was the story. In this article, We talk about the importance of stories, when it comes to remembering our lives.
Humans are storytellers. Have you ever wondered why you might be sitting at the back of a science classroom, bored out of your mind at the lecturer who is showing you all these incredible things, and yet at the same time, we still remain so connected to tales, legends, myths, and even religions? The truth is, humans love a good story. Now sure, There are plenty of rock and metal bands that are more technically skilled, more graceful in their technique, and more theatrical than AC/DC, but to me, there's a reason why their memories are etched permanently into my mind. The simple answer to that is that they had an amazing tale.
Just imagine this. Two young ragamuffins and the rest of their family, migrate from Scotland in the early sixties to Australia on a "Ten Pound Pom" Visa, after seeing an ad promising an escape from Scotland's "Great Freeze", a new life of sunshine, warm summers, rainy winters, and opportunity beholden for all. Ever since they were lads, the boys of the Young family all played musical instruments and crafted a unique talent for the craft. The two brothers Malcolm and Angus, and their older brother George, as well as another English Immigrant whom they met during a stay in a Migrant Hostel, form a Pub Rock band, play a few gigs, and then decide to split over wanting to craft a new sound. George would form the Easybeats and Angus and Malcolm, would leave Villawood and head to Sydney, to form a band whose name came from a small label on their sister's Margaret's sewing machine… AC/DC.
Their orignial lead singer left and after an absolute ripper of an audition, was replaced with their Chauffeur, Bon Scott, a wiley young lad from Fremantle who was recommended to them by a close friend. In 1975, their first album, High Voltage, was recorded… The rest was history.
It sounds like the plot of a pretty epic movie, right? Full of drunken laughs, backstage arguments, hard rock and good fun to be had. Well, the reason why we're drawn to AC/DC is that their story, formed such a big part of our stories as well. Stories are what connect people together and unite them. We form entire communities around stories. Ask any die-hard AC/DC fan and they could tell you that Malcolm used low-powered Marshall amps and a Gretsch guitar to deliver his signature, clean yet rough-cut sound. They'll tell you that Angus played in his Schoolboy outfit because he used to come to band practice after school, and one day He forgot to change into one of his costumes… And It just stuck. They'll tell you that "Highway to Hell" was about the journey that Bon took on the notorious (at the time) Canning Highway, on the way to drink with his mates at the Raffles Hotel after work.
AC/DC was all about the fun side of life. Whilst bands at the time were getting super serious about their songs… AC/DC was just about the joy of life itself, going to a bar, drinking, having a good time with your mates… A real foil to the mainstream music scene at the time. Their music was lauded as "Obscene", "Crude" and "Loutish Bogan Rock", but at the same time, Aussies embraced this sound, and soon the entire world grew to love them.
Sadly, the party life ended up taking Bon from this world after he was found parking lot, dead in his car, after a gig laden with drinking. He lived a short life, but a life that was vibrant and filled with happiness. The band continued on with Brian Johnson, whose voice redefined the band after Back in Black, the first ever album they had which shot them into the stratosphere of fame. Back in Black's title track was dedicated to the life of the electric character which once lead their band. Like the life of Bon himself, they didn't want the sound to be morbid, slow or dark. He was chosen because Angus remembered that Bon was a huge Little Richard fan, and because of the fact that Johnson's lyrical style in his former band, Geordie, was very similar to Richard's.
From there they released a slew of albums, and subsequently, rocketed into the skies of fame. This lead them to their latest Album, "Rock or Bust", which ended up signalling the beginning of the end for Malcolm, after his diagnosis of Dementia in 2014. Despite this, the band did stay within the Young Family, as George Young, Malcolm's older brother, was shoed-in for the tour to do with the album. In August 2017, George passed on, and Malcolm too, in November 2017.
However, Despite his Dementia, Malcolm followed the tour with the band. He would play backstage, fingering the chords and strumming along on his guitar to memorise the notes of their back catalogue, to keep the memory of the good times alive. He was a rocker to the very end, where he passed away peacefully in his sleep at the Elizabeth Bay Lulworth House care facility, surrounded by his bandmates, his friends and his family.
It goes to show that behind every great band, every great actor and every great man, woman and child, lies a great story.
We commemorated the passing of Malcolm by producing one of our "Digital Headstones", an electronic mock-up of what a real memorial constructed by us would look like. When people come into the studio and request a memorial from us here at Forever Shining, we construct an electronic headstone in person so that you can share what this stone would end up looking like to your friends and family. So far the digital headstone we constructed for Malcolm has gotten a staggering number of shares and likes. It goes to show just how much people valued the band, and how much they appreciated the story of Australia's most Iconic Hard Rock band.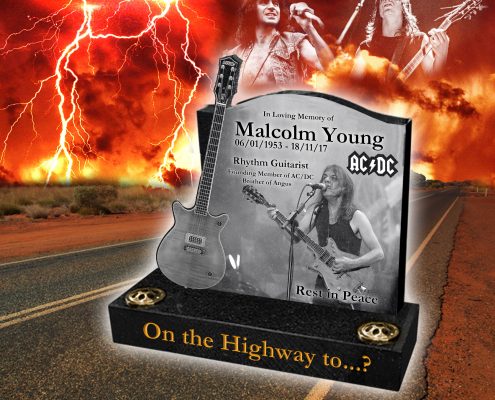 When a customer comes into the studio and orders a headstone from us, we can create a digital headstone that they can share on Facebook as a part of their memorial, to show friends and family who cannot make it to the memorial service. This is a bonus seeing as we live in a modern world where people and their families can be spread over several continents. Like AC/DC, many people have family who came from overseas, others still live back where they came from… So, it's good to have this extra little memento to share with your family and friends.
When we designed the memorial for Malcolm, we wanted to capture everything that best represented him, His stage presence, and his music. We set the stone on an outback highway, a place where fans can crank up the music, and put the pedal to the metal, as well as a representation of what it was like to tour as a band in the 70s and 80s, travelling on long roads that were sparcely travelled. The sky, full of fire and lightning, representative of the musical style that Malcolm aimed for. The engraving on the stone was an image taken from a recent tour of his, as well as an image of his iconic Gretsch Guitar. In the sky above the stone, We depicted Malcolm and Bon together again, Rocking out amongst the clouds. We made sure his connection to Angus was also known, by mentioning his brother's name on the stone too. We finally finished with the 1985 Back in Black depiction of the AC/DC logo, the most memorable of them all.
It just goes to show that we're willing to go above and beyond in order to capture the stories of people in their memorials. Headstones should not be a place that is just a date and a dot. They should contain vivid and wonderous memories. You just have to go and look at the plaque at Fremantle's Memorial Gardens where Bon Scott is buried. All around the memorial, there's bottle caps, bottles, stubbies and cans of beer, and rock memorabilia, left at the gravesite. I once left a tape at Bon's grave, filled with Chuck Berry and Little Richard recordings on it, in respect to his love for these two artists. Thousands flock to the gravesite each year to leave these things behind, as a thank-you for the music. We at Forever Shining believe that when we create a memorial, we need to capture that same kind of spirit in every piece of inscription we create. When you come into the studio, or give us a call, we'll often ask you questions to do with the deceased, to ensure that when we create the headstone, we capture as many happy moments as we can, in order to preserve their life as a story, written in stone.
If you or someone you love is considering any form of memorial occasion, whether it be a Wedding, Funeral, birthday, anniversary or indeed any form of occasion that would require a memorial, the team here at Forever Shining are here to help.
https://www.forevershining.com.au/wp-content/uploads/2014/12/forever-logo.png
0
0
admin
https://www.forevershining.com.au/wp-content/uploads/2014/12/forever-logo.png
admin
2017-11-23 05:09:34
2017-11-23 05:09:34
For those who once did Rock, We salute you. – A tribute to AC/DC's Malcolm Young