Traditional Engraved Headstone
Key Features
Our traditional inscription granite or sandstone headstones have been designed to compliment our range of funerary products and satisfy the needs of those customers who wish to continue to use a traditional material for their memorial.
This style of headstone is available in a number of shapes and infinite sizes from 300 x 300 up to 1200 x 1200. A sand-blasting technique is used to engrave the inscription and artwork motifs into the face of the polished granite/sandstone.
These headstones are available in many different granite colours as well as sandstone, together with 9 different colours of inscription and artwork motif to choose from. A polished granite/sandstone headstone will not oxidize or readily deteriorate thereby maintaining good looks for many years.
Headstone Bases
Headstones can be supplied with or without a granite, sandstone or stainless steel base. The bases can be supplied with or without flower pot holes or flower holders and/or an inscription.
Traditional Engraved Headstones
We take pride in offering a wide range of funerary products for clients who want to use a traditional material for their loved one's memorial, including traditional inscription granite or sandstone headstones.
Are you looking for something, uniquely shaped yet small in stature? Perhaps you would prefer a 1200 x 1200 monument to mark your loved ones final resting place. We offer a variety of sizes and shapes and utilize sandblasting to inscribe polished sandstone or granite.
Do you want a unique color to memorialize your equally unique loved one? We offer stones in a variety of colours and can offer coloured art motifs and font for the inscription. There are nine different colour options for inscription or art. You can rest easy knowing these headstones will maintain their appearance for many years as sandstone or granite do not oxidize or deteriorate quickly.
Memorial Bases
You have the option to purchase a memorial with or without a base, however, if you prefer one, you will have the choice between, granite, stainless steel or sandstone bases. These headstones also have optional flower holders or flower pot holes.
Headstone Design
Have you considered the design yet? While many people may prefer to stick with a basic design, it is nice to know you have other options. Of course, if you want to personalize the design, you do have that option. Personalize the design and or layout to represent how you and the rest of the family feel about your lost loved one by using the design section of the web site. It has never been simpler to choose your potential memorial, go to the webpage, select a headstone and then create your own special monument complete with perfect size, shape and inscription.
On the website you can access our motif library, simply browse until you find the design that speaks to you. Next consider your inscription, would you like it to convey more than just the name and numbers? What colour inscription or artwork would look best? Of course, you should keep in mind these often incur additional costs. It is also important you know you are allowed one more "dressing" which can be kiln-fired overlays, lifetime images, raised glass backed motif, or ceramic photos. Note: There must be room on the monument for the added materials. If you determine you would like to add a photo or image, you will need to upload it to the website. Should you decide on a glass-backed motif, remember to select the appropriate colour from the web page. Again, these are extra services, and can run into added costs.
Final Thoughts
This is a very trying time in life and it is never easy to make these plans for your loved one. However, it does help to know you will have a lovely monument to mark the cemetery plot and stand as a testament to who they were in life. As you go through the selection process, remember you can stop and check the cost along the way. This is helpful if you are working with a strict budget or simply want to weigh the design options based on overall costs. You will also be able to save your design ideas and come back to them later, if need be. Create, save and share your memorial with other family members or friends to keep them apprised of the situation and perhaps offer suggestions on making it better.
Ordering Your Headstone
You may view, print, save or email your saved design or quote from your saved designs screen. You may also purchase your design by clicking on the relevant buy button. Full instructions are given about the ordering process once in the shopping cart.
Shapes

Size Range
Width from 300 to 1200 mm – Height from 300 to 1200 mm (~12″ to 48″)
Sandstone and Granite Colours
Sandstone and Granite are natural products. As such, the colour and pattern of the product supplied may vary from the samples shown. Point your mouse to any of the samples below to see its name.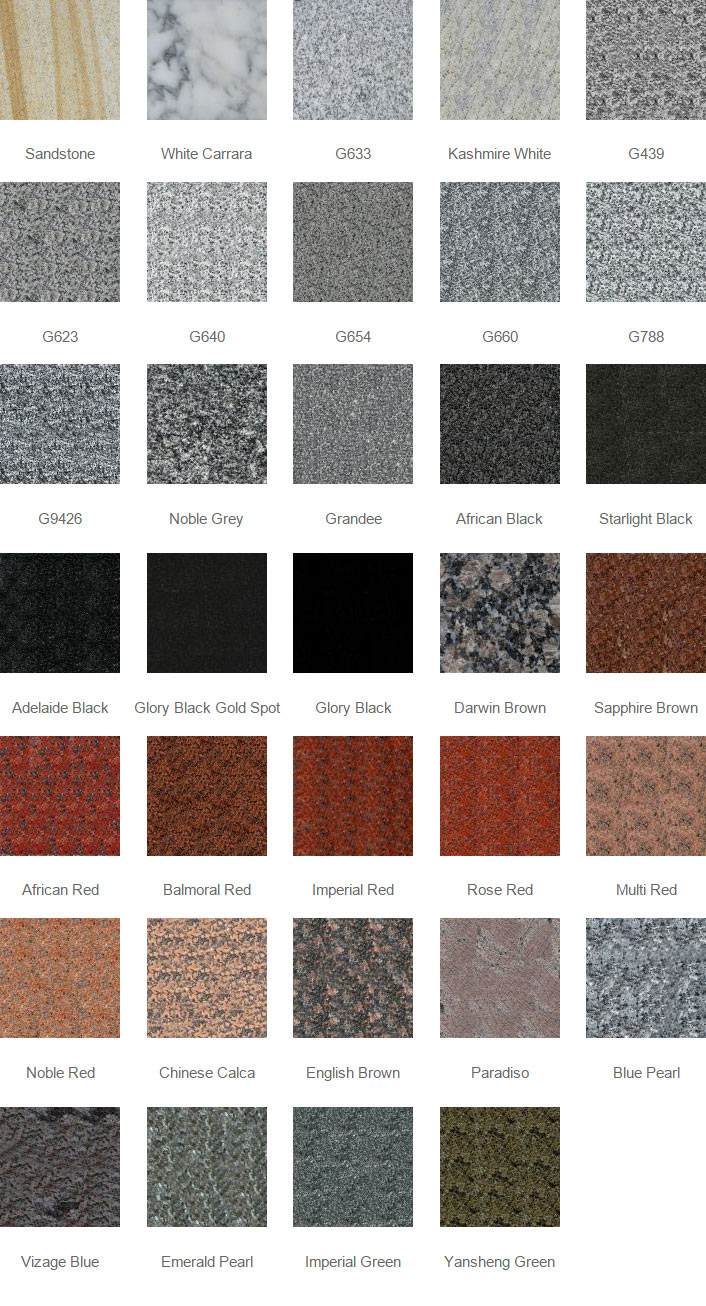 Cemetery Requirements
Various cemeteries have different requirements and limitations on the size of headstones that they allow to be installed on their property. There is no reason why a Forever Shining laser-etched black granite headstone cannot be installed in any cemetery. Before an order is placed for one of our headstones these issues should be discussed between the customer and the cemetery to ensure that the needs of all parties are satisfied.
Trademarks and Copyrights
If there is a trademark or copyright associated with an image or logo that is required on a headstone, please ensure that written permission for us to reproduce the image or logo is provided by the owner of the trademark or copyright and that permission is supplied with the order. The order will not be processed without that permission.
Delivery
Anticipated dispatch time from date of order and payment for a traditional inscription granite/sandstone headstone is 10 to 12 weeks.
Remembrance
A beautiful laser-etched black granite headstone is a permanent and lasting memorial to your loved one and a place for you and others to visit in the cemetery to reflect on and remember the life of the deceased.