Grave Monument Products
Burial headstones and monuments
World First True Design Systems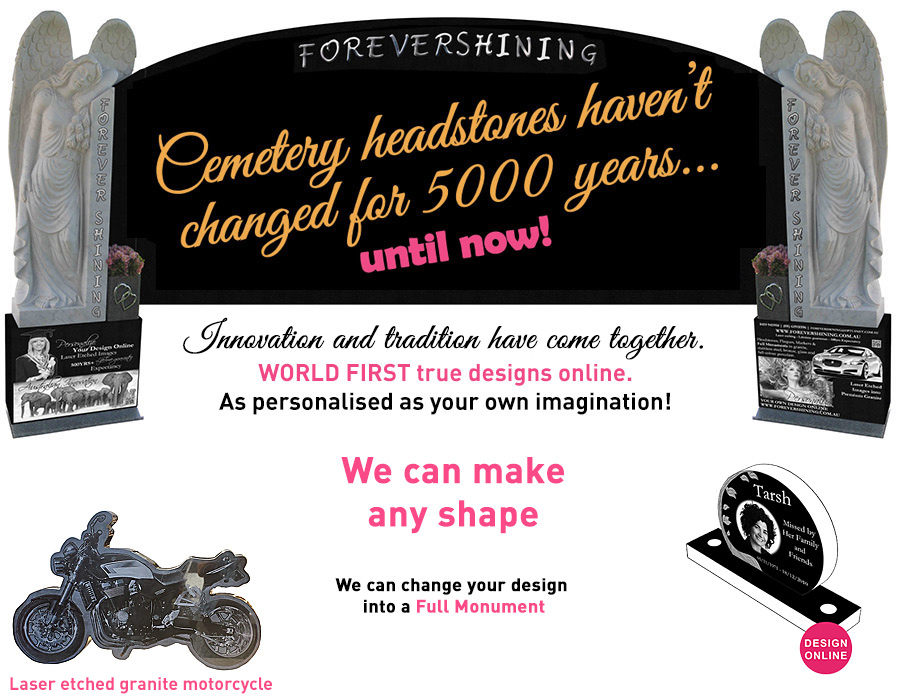 We provide the most innovative range of memorial products
including full monuments. Click here to preview
Designing Your Headstone
Watch the video tutorial
The 3D Design System - Coming Soon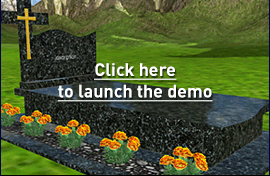 The Next Generation of Forever Shining 3D Design System is coming soon
More products coming soon ...
At forever Shining we give you the customer access to our world first true design systems

So that you can create a product that is very personalized .

At Forever Shining we design, manufacture, sell and deliver the highest quality memorial and funeral products consisting of , memorial monuments, tombstones, headstones with or without a base, We also have a large range of highly personalized urns, and a very impressive range of plaques made from stainless steel, bronze, glass, aluminum ceramic and a range of full colour plaques , as well as statues and any other custom design at cost-effective rates in Perth, Sydney, Queensland, Melbourne, Adelaide and Northern Territory, basically Australia Wide. And internationally
We understand that funerals can get expensive and need to be arranged in a short space of time, for these reasons, we provide an efficient and affordable option for grave monuments with your personalized touch.

Burial markers, headstones and structures have been used to mark the death of loved ones for centuries some of these structures were developed into a design piece that is unique to the deceased. Sadly most leave only a name and a date ,The great news is that forevershining has developed products and a world first design on line systems , this now enables a very high degree of personalization . These products can be customized to your requirements, ordering online or by contacting us, using our unique software you can design online with simple steps, creating that special monument for your loved one. The designing of products online has never been easier, design, save and edit as many time as you like at no cost. We also provide graphic support at very reasonable rates

Tombstones/ Full monuments and headstones
Our full monuments can be made in a wide range of enduring materials such as granite, marble, glass and stainless steel and bronze .

Urns
Urns act as a memorial piece and a reminder. Forever Shining stocks a variety of cremation urns and they come in beautifully decorated designs, from laser etching to traditionally engraved creations and truly personalized

Plaques
Plaques are a simple and affordable yet effective way to celebrate someone's life. They can be made in an array of materials such as granite, bronze, stainless steel, stone, glass ceramics and wood.

Pet memorials
We also specialize in pet memorials. Such as pet headstones . pet urns and a range of pet plaques . Remember your pet by dedicating a fitting and appropriate pet monument for him or her. Although pets are only part of our lives as people, we are their whole life. What better way to show our love than by creating something in their memory that will last forever.

Motifs
Images come in a variety of shapes, sizes and materials, and are either full-colour or black-and-white. Motifs are adornments that are added to the design of a headstone, plaque, portrait, etc.

Architectural products
Not only for funeral services, but whether you want to get statues for memorials or create an art piece for your home interior or exterior, Forever Shining will be the one stop destination for you as we can customize products including imaged architectural pieces to suit your liking. Your ideas brought to life through array of materials and specialized software.
We manufacture these products in materials such as granite, stainless steel, glass, anodized aluminum, core ten, acrylic and timber (wood).

Cemetery Requirements
Various cemeteries have different requirements and limitations on the size of headstones and base that they allow to be installed on their property. Before an order is placed for one of our headstones (also base) these issues should be discussed between the customer and the cemetery to ensure that the needs of all parties are satisfied. Contact us and we can help, advise you regarding the information as we may have already provided products to customers in that cemetery.

Trademarks and Copyrights
If there is a trademark or copyright associated with an image or logo that is required on a headstone, please ensure that written permission for us to reproduce the image or logo is provided by the owner of the trademark or copyright and that permission is supplied with the order. The order will not be processed without that permission.

For an extensive range when planning a funeral, look no further than Forever Shining to create quality crafted grave monuments for you to commemorate the loss of a loved one.